Back to Quests.
Quest Description:
Normally I would trust my master's writings implicitly but magic has been behaving oddly in recent months. Better safe than sorry. Please go check the first seal to make sure that it is unlocked. You will find it at one of the mausoleums here.
Objectives:
First Seal Unlocked - 0/1
Rewards:
Final Dialogue:
Good. Then we will move on.
Given by: Gravedigger Loth in Doomwood Graveyard
Previous in Quest Chain: Fifteen to the Right
Next in Quest Chain: Continue the Combination
Quest Help: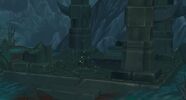 The First seal is located in the mausoleum very close to Gravedigger Loth. The target mausoleum should have a shiny particles ring inside. To complete the quest, find the location and stand in the ring of shining particles.
Ad blocker interference detected!
Wikia is a free-to-use site that makes money from advertising. We have a modified experience for viewers using ad blockers

Wikia is not accessible if you've made further modifications. Remove the custom ad blocker rule(s) and the page will load as expected.