Back to Quests.
Quest Description:
Hmmm. First we need to establish what has happened to the other paladins. I will search the tent while you look around the area. Once you are done, return here and we will share what we have found.
Objectives:
Search The Beach near the Cave - 0/1
Search The Giant Skull - 0/1
Search Near The Gate - 0/1
Search The Cliffs on the River - 0/1
Rewards:
Final Dialogue:
Yes. The letter fragments I found in the tent and signs of a battle that you have uncovered point to an attack. But from who, and why? We need more answers.
Given by: Artix in Doomwood Forest
Previous in Quest Chain: Artix Von Krieger
Next in Quest Chain: This Looks Bad
Quest Help:
The Search areas are located in four specific spots in Doomwood Forest. The spots will consist of ordinary scenery, with a single shiny particles ring specified in a grid. To complete the quest, you need to locate the spots and go near the shiny particle rings.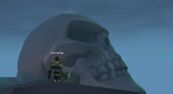 Ad blocker interference detected!
Wikia is a free-to-use site that makes money from advertising. We have a modified experience for viewers using ad blockers

Wikia is not accessible if you've made further modifications. Remove the custom ad blocker rule(s) and the page will load as expected.